Your trading place for electronic components


materialboerse.de was founded in 1999 as a division of ecoservice - Company for the marketing of electronic commerce applications mbH The two managing directors, Uwe Böttcher and Falk Neubert, have set themselves the goal of establishing a secondary market for trading in residual and surplus stocks. Production companies can sell construction elements via materialboerse.de in an ecologically sensible way and at an economic profit.
Currently, over 2000 companies use the opportunity to minimize their inventories through this sales channel (as of December 2018). The B2B trading platform is used by companies from Europe, America and Asia.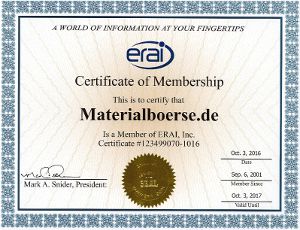 In addition to the procurement of construction elements via the Internet trading place, materialboerse.de offers the manual worldwide search for searched products as an order service.

materialboerse.de has successfully introduced a quality assurance system in 2008. Within the scope of the certification according to ISO EN DIN 9001 and ISO EN DIN 14001, fundamental processes in the company were optimized and standardized.

Thus, our customers and suppliers receive the security of a qualified cooperation with our company.